World-Heritage Shrine and 
 Temples in Nikko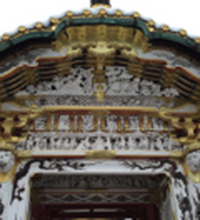 The World-Heritage shrines and temples in Nikko attract many travelers from the world. The World Heritages consists of 2 shrines and 1 temple: the Nikko Toshogu Shrine, Nikkosan Rinno-Ji Temple and Nikko Futarasan-jinja Shrine. The Nikko Toshogu Shrine, the most famous World Heritage in Nikko, enshrines Tokugawa Ieyasu, the first shogun of the Edo bakufu (shogunate). The shrine encompasses a variety of architectures and sculptures registered as the national treasures or important cultural properties, allowing visitors to appreciate great-flamboyant architectural beauties.
Lake Chuzenji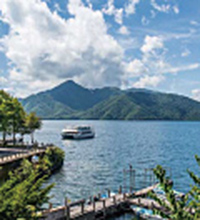 Lying on the skirt of Mt. Nantaisan, the Chuzenji Lake is located at an altitude of 1,269m, one of the highest locations of Japanese lakes. It is said that this lake was formed by an eruption of Mt. Nantaisan about 20,000 years ago. In the 19th and 20th centuries, villas owned by foreigners and embassies of oversea countries were built in this area and obtained popularity as an international summer resort. A hiking course runs along this 25km-around lake, and visitor can view azalea flowers in early summer, as well as colorful leaves in autumn.
Kegon Falls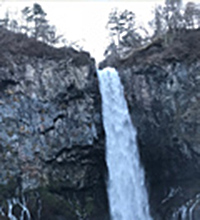 The Kegon Falls, the great falls at a height of 97m, is ranked in the three greatest falls in Japan. Visitors can fully enjoy magnificent scenery and beautiful formative arts created by the nature. In May, the area is decorated with fresh green of leaves; in June, Asian house martins come flying; and in January and February, whole of the falls is frozen to blue ice. Near the falls, there is an observatory platform allowing visitors to see the basin of falls from the close location.
Yakatabune Dinner Crusing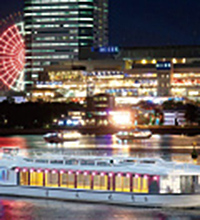 Enjoy a Tokyo Bay Cruise
A yakatabune is an old-fashioned houseboat you can enjoy Tokyo Bay cruise, a journey to Tokyo Bay.
On a yakatabune, you can have a fascinating time enjoying Japan to the fullest. The views of Tokyo Bay vary significantly depends on four seasons, and a Japanese-style party held on a yakatabune offers the perfect way for you to get to know the city, culture, history and traditions. Why not experience the unique tastes of Japan on a Tokyo Bay cruise?